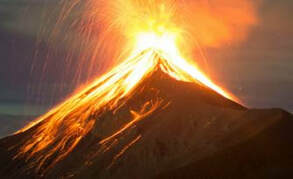 Go Forth and Spew
I don't even like the word 'spew' so I was surprised when the above sentence popped into my head. The hypnotherapist told me to say what was on my mind. Some of the more eloquent lines were, "The stars are within me," "Take the time to be creative," and "Use my dreams." Go forth and spew? Six years later, that line is appropriate because I feel like spewing, recounting all the broken promises, harsh criticisms and disappointments associated with bringing my 3 novels to the public.To be clear, while I am a realist, I also believed that if I visualized success, worked hard at getting the books into the hands, and hopefully hearts, of vegan and vegetarian celebrities, increased my presence on social media, and had them available in local bookstores and as ebooks and in online stores, success would come to me. My motivation for writing the books is my passion for animals, specifically the ones that are a major part of our food supply. As a vegan, I wanted to educate my readers on the realities of industrial animal farming and what better way to do it than in a story form?

I know that my novels aren't ground breaking. I never expected to be lauded as the next Tolstoy or Michener. I'm not a great writer, but I think my stories are entertaining and the characters are unique and likable. I did believe that the animal rights community would embrace the books. I was wrong.

I'm not looking for pity and I don't want anyone to believe that my friends and family's lack of follow-through is the reason that my novels failed to bring me fame and fortune. The lesson here is twofold: first, if you really want to succeed at something, don't ever give up and don't ever let setbacks stop you.The nail in my proverbial coffin was when I naively asked one of my biggest fans if my books were as good as her favorite author. Without thinking, she said, "Oh no. His books are so amazing." It slayed me. It paralyzed me to the point where I haven't begun to edit my 4th book. It's been sitting, untouched for 2 years.Second, don't assume that when someone offers to help you, they will. I learned the hard way that, despite promises of being introduced to a publisher or an entertainment lawyer, or an agent -- even by good friends -- their offers are gobbled up by their very busy lives. If you believe in yourself and have the tenacity to slog through the very crowded, competitive publishing industry, go forth and spew.

I admit that I am bitter and I do resent those who dangled that beautiful golden carrot in my face only to whisk it away and never speak of it again. I've never been competitive and if there ever was a time to me to break out of that mold, this would be it. I've learned to never say never. It's possible that I'll give my first draft another go. Now that I've spewed, I might as well see if the stars really are within me.
---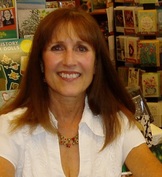 Vegan Cowboy is my first novel, written out of a love for all animals and cowboys (the plant-based ones). It was truly a labor of love, propelling me on a path of helping illuminate the plight of non-human animals who are truly at the mercy of human animals. If my stories can change the hearts and minds of those who read them, I am grateful and honored. And if I could meet a man like Granger Bowden, I do believe my life would be enhanced. Are you listening, vegan cowboys out there?
---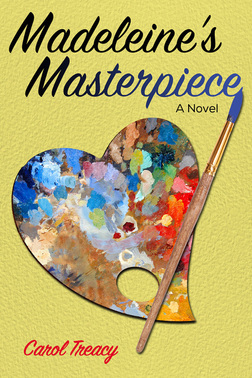 ​What would you do if a famous celebrity asked you out, only to discover his reason for courting you was based on a bet? Would you verbally berate him in front of his adoring fans, write nasty tweets about his character, or go out with him and exploit him for all he's worth?
For Madeleine Mozart, an unemployed mother of two living in Marin County, California, the decision was a difficult one. She wasn't sure what to do when she found out that Charlie Evans, one of the world's biggest stars, wanted to date her to win a part in a movie. After some soul searching, Madeleine makes the decision that catapults her into an entirely different strata of society, one filled with ego-driven actors, five-star hotels, spending sprees and the obligatory irritating paparazzi.
Madeleine deftly orchestrates her new, chaotic life into a cohesive and beautifully written masterpiece.


---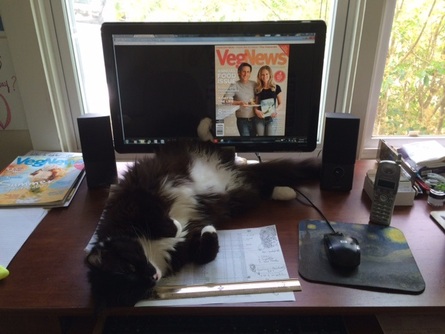 Pierre loves helping me write. When he's not sleeping in front of the computer, he's walking in front of the screen. Gotta love cats.
---
I Loved both of Carol's books.....interesting stories, educational and heartfelt. I read at least 2 books a week and Carol's books are right up there in the top ten!
--- JoAnne Walker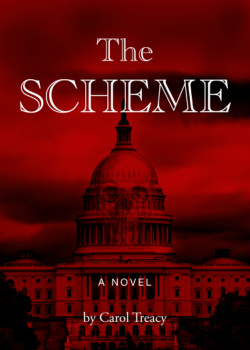 Available here and on Amazon and ebook sites.

Just go to our store and you can buy an autographed copy of The Scheme. It can also be found in print on Amazon and in ebook format on kindle, iBook, Nook, Smashwords.com and more.

What happens when a group of elitist Senators devise a way to eliminate the 'undesirables' from America? Will they succeed in their plan to poison the fast food supply or will their efforts be derailed?
---
I ABSOLUTELY loved Vegan Cowboy! It was a great summer read and I finished it in 2 days. I love the characters and really related to them all. The setting of the book was so wonderful and heartwarming I really missed the book when I finished it. -- Chriss Montalbano
---
Sunday, October 12, 2014, I spoke at the 15th Annual World VegFest in San Francisco.
---